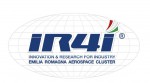 Since May 2016 we have been associated with "Emilia Romagna Aerospace Cluster" www.ir4i.it/
The Cluster is called Innovation & Research for Industry and clearly highlights in the name itself the mission for which it was conceived: to enhance the capacity for Innovation and Research in a technologically advanced sector such as Aerospace.
With the emergence of new and immense continents on Western markets, the aviation vehicle becomes more and more a must for the minimization of times and distances. The companies of Emilia-Romagna have shown in the past – and still today, in the present – peaks of excellence in F1, in Racing and in Automotive Motoring, ranging from Packaging to advanced Mechanics, with surprising results in terms of Performances & Capabilities.